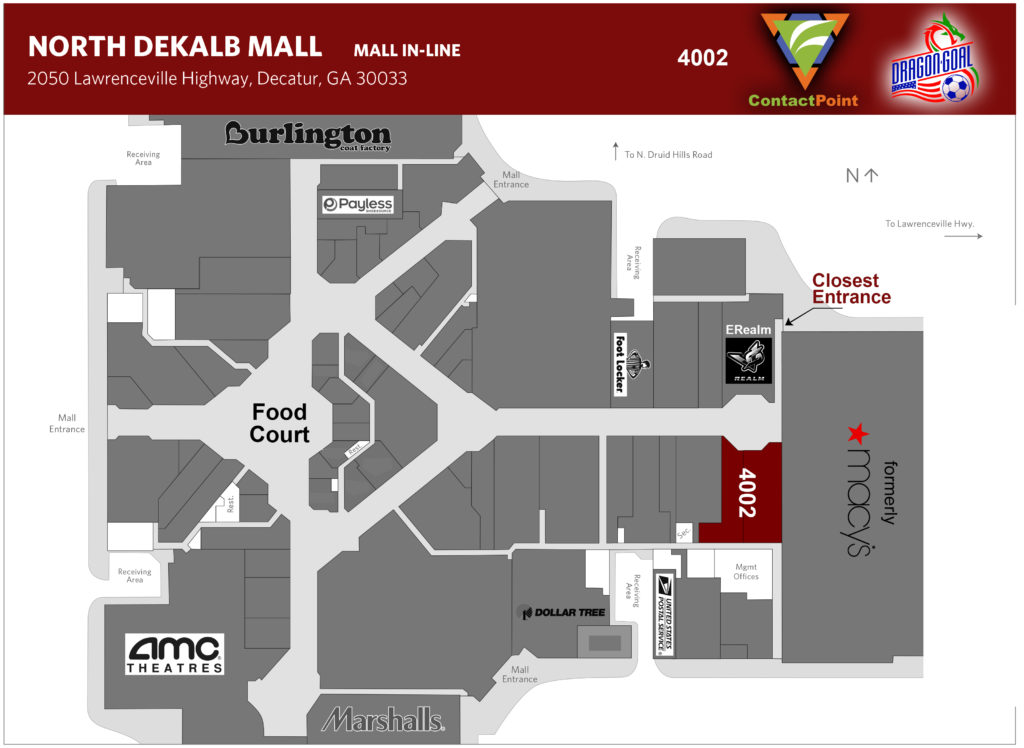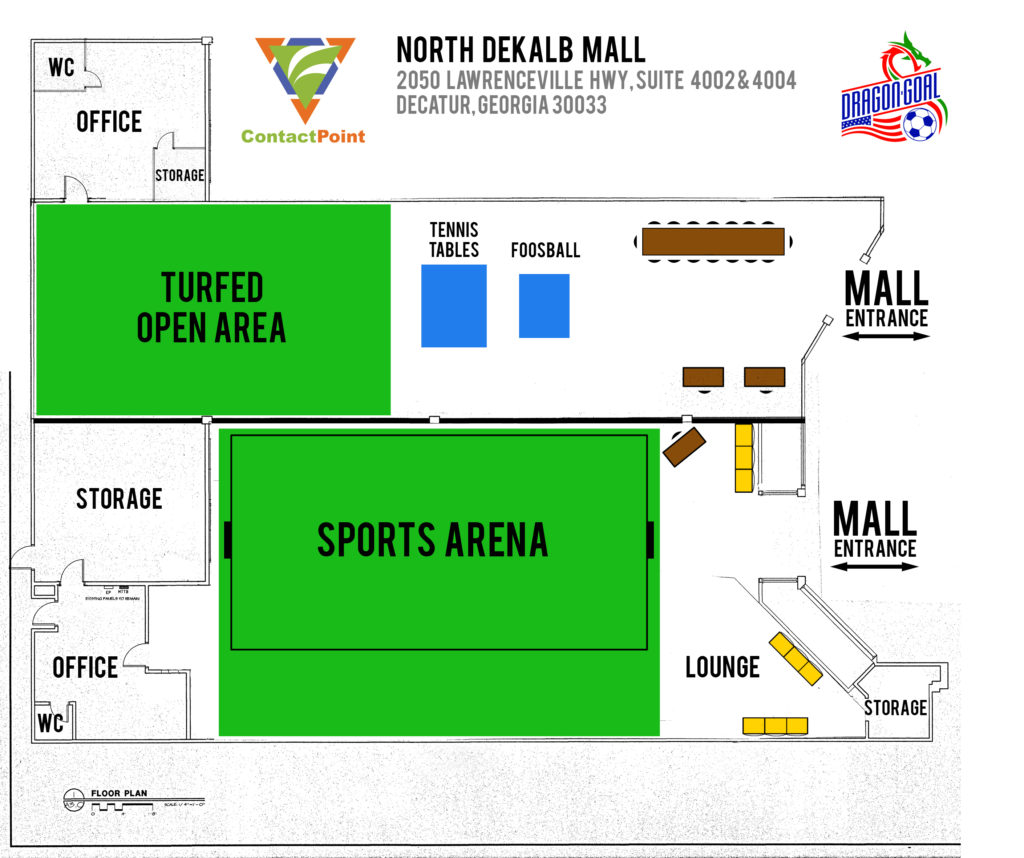 Our newest ContactPoint might be the best! We have taken over two stores in the Mall and will place our 52 ft x 32 ft Dragon Goal for indoor soccer, dodgeball, and more. We will also have a Gaga Pit. Our game room will feature 2 foosball tables, ping pong, and lounge for food/drink.
Birthday Parties, After School Classes, Camps, Leagues, and Clinics will all take place at the ContactPoint, North DeKalb Mall.
A

PLAY

DAY

SPORTS

BIRTHDAY

PARTY

is all about sports and fitness! We provide coaches and equipment for 90 minutes of fun and exercise (plus 20–30 min for food/drink celebration). A ContactPoint sports birthday party is your own
PLAY

DAY

. Pick 3 sports/activities to play in the Dragon Goal with your friends. Our coaches will facilitate the games, as well as allow for free play. We will provide the equipment for a wide array of sports and activities. Soccer, dodgeball, basketball, hockey, wiffleball, lacrosse, tug-of-war, relay races, dance, obstacle courses, hula hoop making, even self defense classes….90 minutes of

PLAY

and 30 minutes for celebration. We can even have a fun dance party for your young teen with

DJ

on site!
Par­ty pack­ages start at $300 for 90 min­utes par­ty, no food/drink
$350 (most pop­u­lar) 90 min­utes of

PLAY

and 20–30 min­utes of food/drink cel­e­bra­tion in our lounge.
Healthy Food/drink option

: Local farmers prepare and serve real, raw food the kids will

LOVE

. They will see how easy and yummy real food is, and learn to appreciate the benefits of fruits and veggies! Cost is $10/person
SOCCER

PARTY

PACKAGES

are also available for add'l cost: they include Soccer Genius measurements (with sensor and radar technology), mini-tournaments, soccer-related drills, competitions, and more.

CLICK

HERE

to learn more.
NO

CLEATS
After School Classes
Our newest
PLAY

space is located inside North DeKalb Mall. Our turf field Dragon Goal allows the children to

PLAY

a variety of sports and activities like soccer, dodgeball, and more! We also have a Gaga Pit; a great new game the kids will

LOVE

!
After School Times: Monday-Friday 3:00–5:00; $10/hour includes water and snack; drop-off
OK
"

My son and his bud­dies said it was the best birth­day party they have ever been to" — Andrew Smith
"

Atlanta ContactPoint provides a fun, active, in-town option for your child's sports birthday party. The coaches are awesome, and access to the gym means you don't have to worry about the weather. It's a great deal for kids of all ages!" – Connette Blake
"

David – It was such a great party. Thanks so much for making it easy, turn-key and totally fun. Everyone had a blast." Kim Gnatt
"Just want­ed to say thank you so much for Sat­ur­day! Every­one had such a great time and all the coach­es were amaz­ing. I appre­ci­at­ed the flex­i­bil­i­ty to make sure the tim­ing of Freddie's the Falcon's entrance worked and it real­ly end­ed up per­fect­ly. Thank you!!" — Lori Mur­phy
"We had a blast at my son's birth­day yes­ter­day at Atlanta Con­tact Point. Coach­es Cae­sar and Ian were won­der­ful with the kids instruct­ing them clear­ly and mon­i­tor­ing though dif­fer­ent sports games. Thank you so much!" Kate Elkins
The kids all had a blast! Ceasar and Cole kept most of them run­ning the entire time! Except for when they all actu­al­ly sat still to eat lunch, which we all agreed nev­er hap­pens at home.
As Davis was eat­ing his cake he looked around and said "this is the best birth­day ever!!!"
Thank you so much! You've got a great pro­gram and a won­der­ful team!
Heather Stew­art
Our Multi-sports Coaching Staff and Counselors
Caesar Angoyou: In addition to being an all star professional basketball player in the American Basketball Association, Coach Caesar is an avid yogi and fitness instructor. Caesar graduated from Emory University where he studied Sociology, Psychology and Meditation.
Ian Green: I attended Morningside, Inman, and Grady. I played soccer all of my childhood and now love to work with kids. I enjoy playing a variety of sports, especially basketball, dodgeball, and capture the flag. When I am not working at the ContactPoint, I work at Ace Hardware near my home in the Va-Hi's.
Lena Brown: I'm a sophomore at Grady High School and I love playing with the kids at camp. My favorite sport is soccer. I play for Inter Atlanta during the fall, and during the spring I play for the varsity team at Grady. When I'm not at school or playing soccer, I like to hike, nap, and hang out with friends!
Lily Shevlin: I go to Henry W Grady High School and i am currently a sophomore. I love cheerleading and i am on the varsity cheer squad. When not focusing on school or cheer I like to hang out with my friends and go on hiking trips with my best friend.