Wel­come to Con­tact­Point,

L5P

facil­ity for after-school sports and fit­ness classes!
PLAY

DAY

every­day, rain or shine!
"

This is, hands down, one of the best after school programs for children in our neighborhood! Finally, a program that is affordable and just all out

FUN

for kids of all ages in the city. I'm not sure who's having more fun during an intense game of basketball…the counselors or the kids! My son wishes he could attend every day. Thank you Contact Point!".….Courtney Wagner, Spark parent
The Con­tact­Point, L5P is locat­ed at 502 Semi­nole Ave. Atlanta 30307.
Monday-Thursday classes available.

Special Ultimate class on Wednesdays at Candler Park as well.
Basketball, hockey, soccer, dodgeball, tree climbing, skating, and a new
Photography Class on Wednesdays!
2:30: pick up from school and dri­ve in our van to Con­tact­Point with coach
2:45: arrive and change, have snack
3:00–5:00: class­es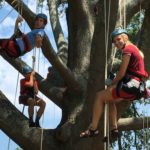 Pric­ing Ele­men­tary School
$25 Reg­is­tra­tion Fee
1 Day/week;
$108/month
2 Days/week;
$215/month
3 Days/week;
$280/month
4 Days/week;
$365/month
Scholarships Available
CLICK

HERE

for registration form
Our Coaching Staff and Counselors
Caesar Angoyou: In addition to being an all star professional basketball player in the American Basketball Association, Coach Caesar is an avid yogi and fitness instructor. Caesar graduated from Emory University where he studied Sociology, Psychology and Meditation.
Ian Green: I attended Morningside, Inman, and Grady. I played soccer all of my childhood and now love to work with kids. I enjoy playing a variety of sports, especially basketball, dodgeball, and capture the flag. When I am not working at the ContactPoint, I work at Ace Hardware near my home in the Va-Hi's.
Lena Brown: I'm a sophomore at Grady High School and I love playing with the kids at camp. My favorite sport is soccer. I play for Inter Atlanta during the fall, and during the spring I play for the varsity team at Grady. When I'm not at school or playing soccer, I like to hike, nap, and hang out with friends!
Lily Shevlin: I go to Henry W Grady High School and i am currently a sophomore. I love cheerleading and i am on the varsity cheer squad. When not focusing on school or cheer I like to hang out with my friends and go on hiking trips with my best friend.