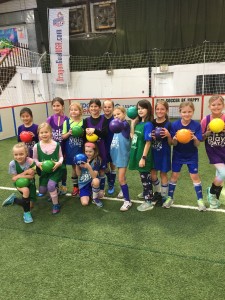 A PLAY DAY Birth­day party is all about sports, fit­ness, and health! at our ContactPoint Horizons location we pro­vide coaches and equip­ment for 90 min­utes of fun and exercise.
Pick 3 sports/activities to play in the Dragon Goal with your friends. Our coaches will facilitate the games, as well as allow for free play. We will provide the equipment for a wide array of sports and activities. Soccer, dodgeball, tennis, hockey, wiffleball, lacrosse, tug-of-war, relay races, obstacle courses, sword fighting, etc….90 minutes of PLAY and 30 minutes for celebration.
Food and drink options are available. Only healthy food and drinks will be available. Special menu can be prepared. Cost starts at $350
SOCCER PARTY PACKAGES are also available: they include

Soccer Genius

measurements (with sensor and radar technology), mini-tournaments, soccer-related drills & competitions, staged photos, take away and more. CLICK HERE to learn more.
"My son and his bud­dies said it was the best birth­day party they have ever been to" — Andrew Smith
"Atlanta ContactPoint provides a fun, active, in-town option for your child's birthday party. The coaches are awesome, and access to the gym means you don't have to worry about the weather. It's a great deal for kids of all ages!" – Connette Blake
"David – It was such a great party. Thanks so much for making it easy, turn-key and totally fun. Everyone had a blast." Kim Gnatt.
In The Park
PLAY DAY at the park is 90 minutes of sports and activities. We bring all the sports equipment and provide the coach/es for the party.
Price for the PLAY DAY in the park starts at $200.
Additional charge for reservation of park ($75-$100); optional
Additional charge for more than 20 kids; $100 for up to 30 kids; $200 for up to 40 kids.
Corporate Events
Want a unique party/event for your com­pany? We offer our PLAY DAY Expe­ri­ence of sports, fit­ness, and arts! We can come to a des­ti­na­tion of your choos­ing like a local park.
Choose from a wide range of sports and activ­i­ties like scavenger hunts, kick­ball, dodge­ball, soc­cer, ten­nis, flag football, bas­ket­ball, tug-of-war, vol­ley­ball, zumba, strength train­ing, walking/running tours, expres­sive arts, and more!
Festivals
Are you looking for a fun way to engage the kids at your festival? Allow the PLAY DAY team to provide tons of fun and physical fitness at your event. Our coaches bring equipment and "know how" for a fun filled day of activities.
Choose from tug-of-war, juggling, face painting, hula hoops, soccer, flag football, ultimate, kickball dodgeball, and more!
Con­tact us for more info and pric­ing! INFO@atlcp.org