In partnership with the Horizons School and Dragon Goal USA, the
ContactPoint Horizons
is our new activity space located in Lake Claire on DeKalb Ave – 1900 DeKalb Ave., 30307.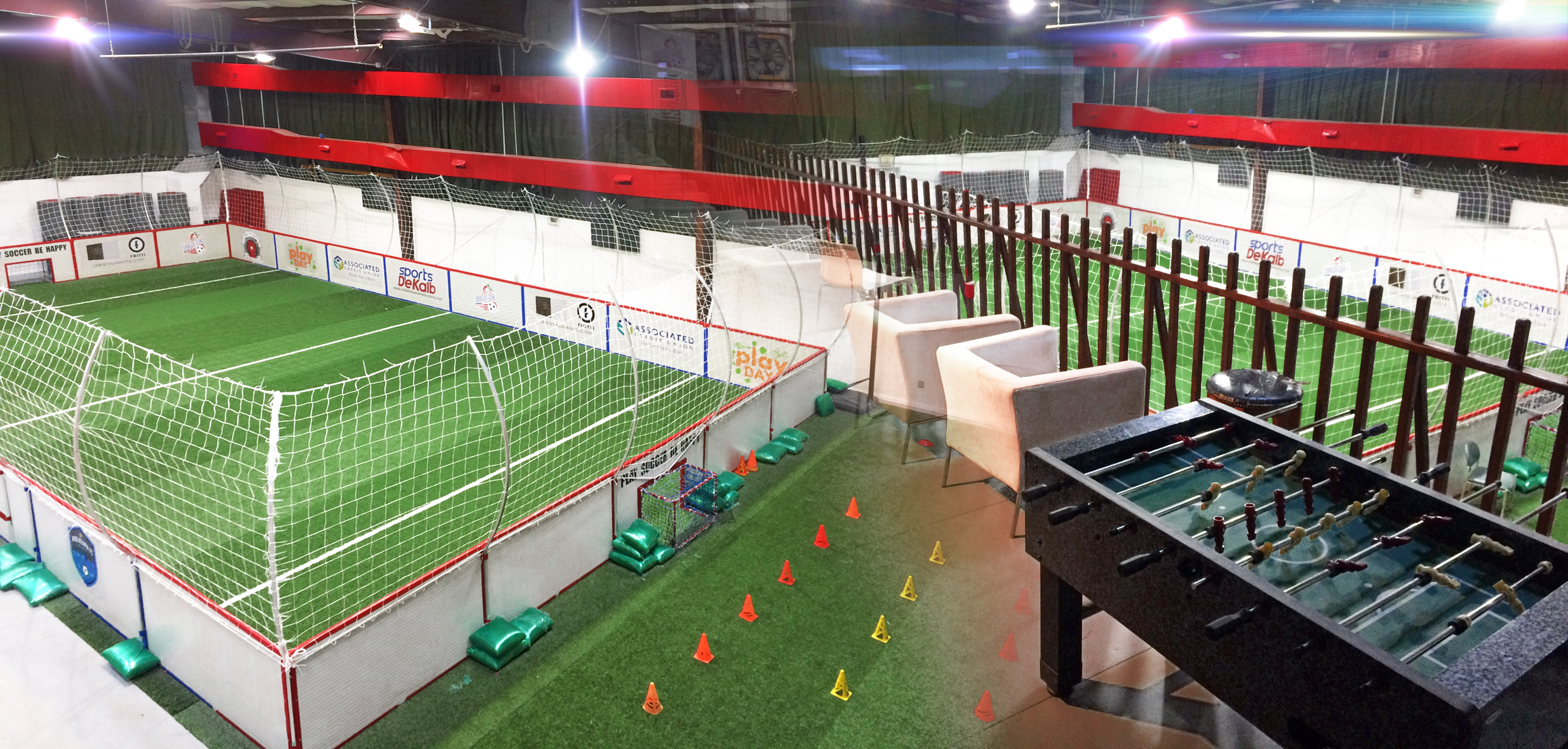 We feature an indoor Dragon Goal for soccer, tennis, hockey, dodgeball, and more. We have two basketball hoops for shooting practice, a game-room with foosball and table tennis and a large room as multi-funtional learning center. In addition to specialized soccer and athletic training (more info HERE), we provide a variety of multi-sports programs and Play Day experiences to engage kids of all ages and skill levels through the power of play.
Play your own music playlist.
Trained coaches and teenagers will supervise various classes.
We "roll out" our healthy snack and drink program providing water and a variety of healthy snacks like our "banana jerky" (dehydrated bananas). We will discourage any outside food and drink. Please see more info below about our nutritional plan.
School's Out Camps
Every school holiday, we will offer camp in the gym
After School Classes for K-5th Graders
Monday-Friday 2:30-5:00
10-20 kids playing soccer and a variety of other sports and activities like dodgeball, sword fighting, table tennis, football, and more.
Supervised by trained coaches and responsible teenagers
Healthy snacks and drinks will be provided
Birthday Parties
Saturday and Sunday 11:00-1:00, 1:30-3:30, 4:00-6:00
A ContactPoint sports birthday party is your own PLAY DAY. Pick 3 sports/activities to play in the Dragon Goal with your friends. Our coaches will facilitate the games, as well as allow for free play. We will provide the equipment for a wide array of sports and activities. Soccer, dodgeball, tennis, hockey, wiffleball, lacrosse, tug-of-war, relay races, obstacle courses, sword fighting, etc….90 minutes of PLAY and 30 minutes for celebration.
Game room/lounge available wit table, chairs, foosball and table tennis.
Healthy Food and drink options are available.
Cost starts at $300 NO CLEATS allowed on the turf

Nutritional Plan
Atlanta ContactPoint is committed to providing the healthiest, most enjoyable and best play experiences for children and adults, and healthy delicious snacks contribute to that. ACP will deliver tasty, affordable, HEALTHY snacks as part of our commitment to Play and Health. We have several options including Dehydrated banana "Jerky," a food that is "better than bananas" according to several of our discriminating students and players. We also, occasionally provide organic apples, oranges or grapes depending on the season. Other dehydrated (raw, uncooked and full of enzymes and nutrients) foods include sweet "crackers" with fruit, seeds, maple syrup and other goodies, dehydrated mango and seaweed. Kids love these snacks and they help them improve their skills by providing energy without the sugar-letdown, better eating habits and boosted brain-power.