Washington Park 1125 Lena St., Atlanta GA 30314 (additional parking at Washington High School)
What a day we have planned! We have teamed up with the Atlanta BeltLine, CIty of Atlanta Parks and Recreation, Atlanta Falcons, Atlanta Sport and Social Club, Atlanta Jazz Fest and many more local organizations for a full array of sports, fitness, arts, and music!
We will have access to the POOL for swimming and water polo; TENNIS COURTS for tennis and roller/street hockey; SOFTBALL FIELD for softball and kickball; FIELD for flag football, ultimate, golf, soccer, rugby, and more! We will have a STAGE for dance and jazz music!
Atlanta Flacons Cheerleaders and Freddie the Falcon will be joining us for the fun!
Free Photos with friends provided by Mag-nificent.com
CLICK HERE

for Volunteer/Coaching Opportunities
SCHEDULE of PLAY
1:00-2:00 Family Soccer, Kickball, Street Hockey, Roller Derby, Swimming
1:00-2:00 Adult Kickball
1:00-3:00 Basketball with Top of the Key
1:00-4:00 Bike workshop with BeltLIne Bike Shop
2:00-3:00 Family Rugby, Tennis, Dodgeball, Swimming
2:00-3:00 Adult Flag Football, Tennis, Water Aerobics, I.Robics Dance Fitness
3:00-4:00 Family Softball, Ultimate, Volleyball, Water Polo
3:00-4:00 Adult Soccer, Tennis, Water Polo, Bokwa Martial Arts/Fitness
3:30 Dance/Fitness
4:00-5:00 Golf, Flag Football, Tennis, Dodgeball, Urban Perform Zumba
4:00-5:00 Adult Mountain Biking, Urban Perform Zumba
ALL ADULT SPORTS PROVIDED BY ATLANTA SPORT AND SOCIAL CLUB!
Special Imagination Playground provided by City of Atlanta Parks and Recreation
5:00 – 7:00 AJF Neighborhood Jazz Concert Presented by Councilmember Ivory Lee Young, Jr.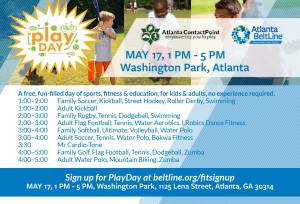 Sports, Activities, and Education provided by:
Atlanta Falcons (Freddie and Falcons Cheerleaders)
The Allergy Friendly Vegetarian
Atlanta Flying Disc Club
Atlanta Braves BAT Team
Atlanta Youth Tennis and Education Foundation
Atlanta Youth Rugby
Bokwa Fitness Group
CATCH Community Outreach (Connecting Atlanta's Children to Healthcare)
Children's Healthcare of Atlanta
City of Atlanta, Department of Parks and Recreation
The Conservancy at Historic Washington Park
Hidden Dojo- Goju Ryu style
KTX Fitness- I. Robics Dance
Park Pride
REI
PLAY DAY Sponsors:
Atlanta BeltLine
Atlanta Falcons Youth Foundation
City of Atlanta- Department of Parks and Recreation
King of Pops
NMS Dentistry
Abbadabba's
Urban Body Fitness
Park Pride
Ice Box
Lee and Darlene Team